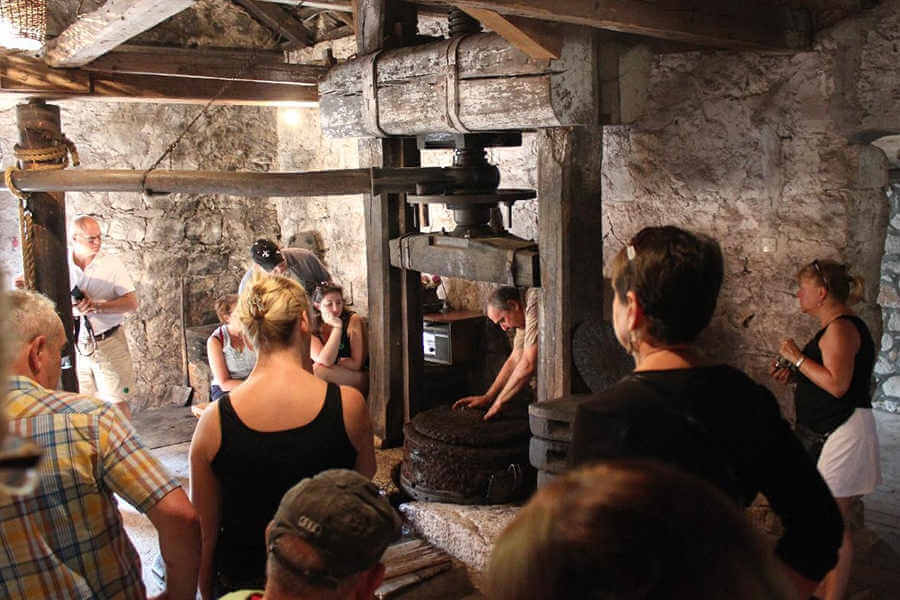 Taste of Dalmatia from Dubrovnik / 46 EUR
DESCRIPTION
DURATION: approximatley 5 hours
Come on board!
Don't just visit… experience it!
This excursion really gives you the chance to TASTE Dalmatia.
You will start with a pleasant bus ride along the Adriatic coastline and the first stop will be made in the small village of Orašac where we take part in the production of olive oil the old-fashioned way, where the "mill" is driven by a horse. Here you will also have the opportunity to taste some home made cheese, smoked ham and wine. All this in an old-fashioned house which has not changed much through the ages.
We continue towards the small town of Ston which is the "oysters capital" of Croatia. This little town is often called a small size copy of Dubrovnik. The magnificent walls surrounding the town are 5 km long and the construction started in 1317 and was finished only in the 16th century. It is one of the longest defensive walls in the world. The ancient salt pans that were in use during the Dubrovnik Republic are also interesting. Salt is still produced here. After visiting Ston, enjoy a walk along the seaside in the town of Mali Ston with a magnificent view over the oyster and mussel farms, and taste the famous seafood served on a platter in one of the local restaurants. You will certainly be delighted with this journey through time!
ITINERARY
* Departure from the hotel according to the timetable
Approximatley 12:30 arrival to the village of Orašac – demonstration of olive oil production (the old fashioned way with a horse turning the mill) – smoked ham and cheese tasting
14:00 stop at Ston – short orientational tour and free time
15:30 arrival to Mali Ston and seafood tasting
16:30 departure towards Dubrovnik
17:45 – 18:00 arrival to the hotel
* Departure info
Meeting point is at Pile Square next to the fountain by Dubravka bar restaurant (just outside Pile gate, western entrance to Old town)
A guide will be holding a Walking Tour sign. We kindly ask all the guests to be at the departure location at least 5 minutes before departure time for check-in.

INCLUDED IN PRICE
Sea food platter
Demonstration of olive oil production