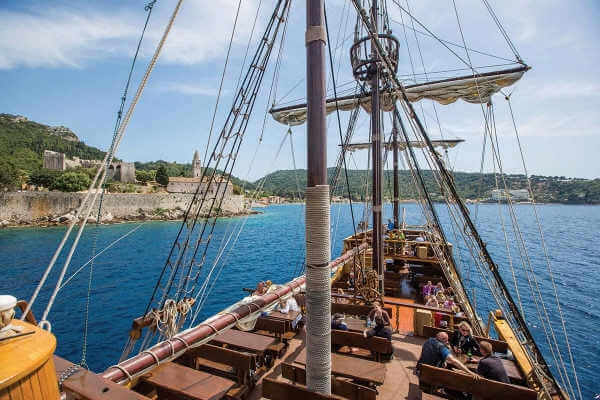 Island Cruise from Dubrovnik / 51 EUR
DESCRIPTION
DURATION: approximately 9 hours
Come on board!
Don't just visit… experience it!
Just like the streets of Dubrovnik were not built to be seen by carriage, but on foot, it is certain that the best views of the Dubrovnik region are from the sea. The historical Galleon is certainly the best stage for such scenery.
During this cruise, you will see the three most beautiful islands of the Dubrovnik archipelago – Kolocep, Lopud and Sipan, commonly known as the Elafiti islands. The old legend of the islands is hidden in its name – about the old Greeks hunting for deer and subsequently naming the islands – the Deer islands. Green islands, with gardens full of oranges and lemons and lovely seashore landscapes, charming and picturesque villages with a harmonious architecture of summer manors; old seaman's houses and little votive churches. Visit all three Elafiti islands and enjoy your lunch – grilled fish and wine while being entertained by our local musicians.
* Note: sportswear recommended
ITINERARY
* Departure from the hotel according to the timetable
09:00 departure from Port Gruz
09:30 arrival to Kolocep island and free time
10:15 departure towards Sipan island
11:00 arrival to Sipan; short sightseeing and free time
12:00 lunch (grilled fish, salad, wine) on board the ship, departure for Lopud island
approximately 14:00 arrival to Lopud and free time for swimming and sunbathing
16:30/17:00 departure from Lopud
17:30/18:00 arrival to Port Gruz and transfers to the hotels
* Departure info
Meeting point is at Pile Square next to the fountain by Dubravka bar restaurant (just outside Pile gate, western entrance to Old town)
A guide will be holding a Walking Tour sign. We kindly ask all the guests to be at the departure location at least 5 minutes before departure time for check-in.

INCLUDED IN PRICE